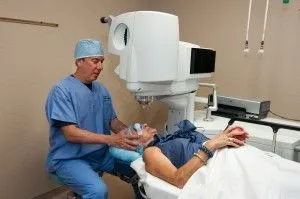 Dr. Jessup has over thirty years of experience and constantly staying abreast of the latest eye disease treatments and vision care modalities. Our office utilizes electronic prescription services ensuring fast and accurate processing of your eye medication needs.
Dr. Jessup uses the latest in customized contact lens prescribing techniques. We will ensure your lenses are comfortable, provide you with clear vision, and show you how to properly care for your lenses. We are always available for any follow-up care you may need, even after hours for emergencies; just call the emergency number on the website.
The Latest Prescribing Techniques,
The Most Innovative Procedures
You may be surprised to know that we also provide contact lenses in bifocal designs, and also for people with astigmatism or irregular corneas due to disease, degeneration, or surgical complications.
Our list of professional services includes:
Treatment of Eye Disease
Glaucoma Management
LASIK Co-Management
Corneal Refractive Therapy
Post-Op Cataract Surgical Care
Dry Eye Treatment
Eyeglasses
Prescription Sunglasses
No-Line Bifocals
Polarized Lenses
Contact Lenses
Contacts To Change Your Eye Color
Bifocal Contacts
Types of Payment Accepted
We accept Cash, Personal Checks, American Express®, MasterCard®, Visa®, and Discover®.
Insurance Plans
We participate with VSP, Medicare, Medicaid, Blue Cross Blue Shield, Cigna, Humana, Superior Vision, Tricare, United Health care, Health Scope, Vision Care Plan (VCP), Ameritas, Humana, Aetna, Principal & Block.
Check with our staff if you have other types of coverage or to verify current plans, benefits, and out-of-pocket expenses.
Languages Spoken
Our staff speaks English and Spanish.
Locations/Contact
Jessup Eye Care is located in Nashville, TN one of the cultural hubs of the country. Nashville is also one of the most populated cities in Tennessee. If you are having problems with your eyes, whether your sight is worsening, or you are having any other problem you should give us a call and schedule an appointment. Because most of us are dependent on our sight for functioning daily, any problem should be remedied as soon as possible. You can call us during business hours for an immediate response, or email if it is slightly less urgent.